Alice au Pays des Merveilles : cinq nouvelles images !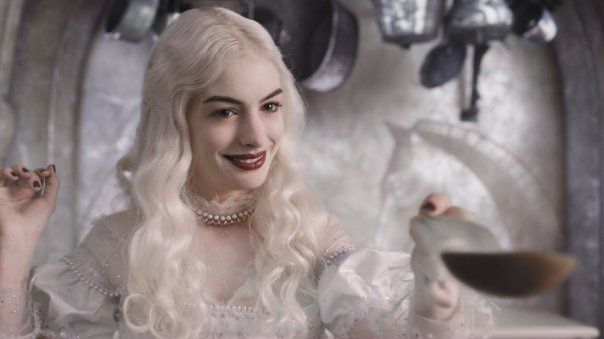 Beaucoup d'infos en ce moment sur le nouveau film de Tim Burton. Aujourd'hui ce sont cinq nouvelles images qui sont apparues sur la page Facebook officielle du Chapelier Fou. Il s'agit d'images dévoilées ces derniers jours. Voici les descriptions qui les accompagnent :

THE BANDERSNATCH is a disgusting, drooling, foul-smelling creature with a big filthy body and the squashed, teeth-baring face of a rabid bulldog. A swipe of his long claws leaves Alice with a rather painful reminder of the Red Queen's horrible reign.

MIRANA, THE WHITE QUEEN (Anne Hathaway) is the younger sister of the Red Queen, and while she appears to be all sweetness and light, beneath the surface there's a hint of darkness to her character. "She comes from the same gene pool as the Red Queen," says Hathaway. "She really likes the dark side, but she's so scared of going too far into it that she's made everything appear very light and happy. But she's living in that place out of fear that she won't be able to control herself." When Alice returns to Underland, the White Queen takes her under her wing, offering her protection, although her motives aren't completely altruistic.

TWEEDLEDEE and TWEEDLEDUM (Matt Lucas) are rotund twin brothers who constantly disagree with each other and whose confusing chatter makes little sense to anyone but them. When Alice arrives in Underland, she looks to the Tweedles for guidance. Innocent and infantile, adorable and sweet, they mean well but are of little real help since they speak in weird rhythms and riddles. "I imagine them as naughty Victorian children, with their hand in the honey jar," says Lucas, the British comedian and actor who plays them both. "And so I have made them quite child-like, which does come naturally to me, because I'm a big kid anyway."

THE DODO (voice of Michael Gough) is one of the first residents of Underland Alice sees upon entering the fantastical world. One of the oldest Underland inhabitants, the Dodo wears eye-glasses and carries a walking stick. Both quiet and wise, he stops his friends bickering over Alice's true identity by suggesting they bring her to the even wiser Absolem.

BAYARD THE BLOODHOUND (voice of Timothy Spall) is an unwilling accomplice to the Red Queen's forces, fearful that his imprisoned wife and pups will be injured if he doesn't do Stayne's bidding. He proves to be secretively loyal to the Underland Underground resistance, becoming both Alice's ally and a rather convenient transportation system.


Lors d'une soirée mondaine, Alice est présentée à son fiancé devant une foule d'invités, se retrouvant de fait un peu piégée. S'enfuyant avec le Lapin Blanc, elle retourne au Pays des Merveilles, qui a bien changé depuis sa dernière visite quand elle était jeune: devenu inquiétant et sombre, il vit sous la terreur du monstre Bredoulocheux lancé par la Reine Rouge. S'associant avec divers personnages, dont le Chapelier Fou, Alice aura fort à faire pour tuer le monstre et libérer ce monde de la tyrannie de la méchante Reine, et libérer au passage la Reine Blanche.